DB Insulation of Washington D.C.
The warmest contractor you know!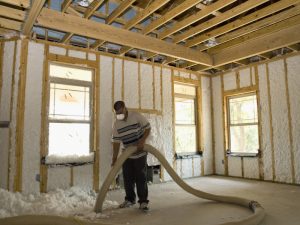 CALL US TODAY FOR A FREE ESTIMATE ON INSULATING YOUR HOME!
(240) 466-6880
Hire a Washington D.C. Insulation Professional
Free Estimates
Licensed, Bonded, and Insured
5.0 Star Google Rated Reviews
30 Years of Experience
Competitive Pricing
Knowledgeable Assessment of your House Needs
"Always competitive. Always courteous and professional. Always on time or ahead of schedule. Always top quality workmanship. Always tidy with no scrap left on the jobs. This over to course of many years (we anticipate many more) and numerous jobs from small renovations to large new custom homes. Great work, thank you David". -Ed
Insulation Solutions we install in Washington D.C.
Blown Cellulose Attic Insulation
Fiberglass rolls for walls, crawl spaces, and attic foundations
Spray Foam for retrofitting older houses up to code
Thermal Max Foam Board
Rock Wool Sound Insulation
Thermal Fiber
Benefits of Increased Insulation
Comfort
Beefing up your crawl space or attic is the easiest, cheapest way to warm up your home. You and your family will sleep easier knowing you won't wake up to a cold house. A poorly insulated house can lose 2 degrees of heat per hour or more, making for a very cold start to your work day. Wearing layers is fine, but it should be optional, and should not be a substitute for a warm home. Increased R-value means more comfort for you and your family
"When we did our attic insulation, I noticed the difference that very night. It was late fall/early winter and we were used to having a fire going in the living room and having it be comfortable but we never ever had the heat of the fire warm our bedroom. I didn't even realize until we did the insulation that it would change the entire thermo-dynamics of our house. We had been losing so much heat in the ceiling, that by the time the heat of the fire got down the hallway, to the first bedroom, and finally to our master bedroom, the heat was all but gone. Not only does the heat from one end of the house now reach the other end, but it stays through the night. Thanks so much for changing our house." -Jason G. in Southern Maryland
Decreased Heat Loss
Increasing the insulation in your attic, crawl space, or even the walls can reduce that heat loss to half a degree or less per hour. Imagine not having to replace the heat on a cold day. Our boiler only turns on because of heat loss. On a 20 degree day, with no heat loss from your house, once you got the inside temperature to 70 degrees, it would actually stay there! Can you imagine that? More insulation, properly installed, will help greatly reduce heat loss from your home. Your wife or significant other will be happier, the planet will be greener, and you will actually look forward to getting the gas bill, which brings us to our next point…
Reduced Energy Bill
When heat leaks from your house, the boiler kicks on to replace it and keep that thermostat operating at the same temperature. They are just machines doing their job. They know nothing of global warming, the politics in Washington D.C. of where we get our oil from, nor the difference between natural gas and propane. More importantly, they don't care how much money they spend! The cold hard fact is, your boiler is robbing you blind but its not its fault. The house is losing heat and you can reduce that heat loss with the help of an insulation contractor. You'll actually be happy when you get that new heating bill for the first time when you see how much you save per month.
Longer Boiler/HVAC System Life
What? Let's let that one sink it. Its true. We mean it. Your boiler and your HVAC system will enjoy a longer life, with longer service intervals with beefed up insulation. You already know this to be true, that the more use our machines get, the more wear and tear they get. But your boiler doesn't have an odometer to tell you it has 200,000 miles on it, nor can it tell you its time for an oil change after 5,000 miles. But none the less, our HVAC equipment has a life expectancy, and that is not tied to the number of years it runs, but rather how much it runs in those years. If we can cause that boiler to run half as often, the boiler has a fair chance at lasting twice as long.
Fill out the below form and we will get in contact with you as soon as possible!
Your home is a place to get out of the weather. Last Winter Washington D.C. got slammed with 2 feet of snow! And temperatures dropped to almost 20 below zero! And in the summer D.C. the heat index can sore to over 100 degrees! With such extreme ranges of temperatures, good insulation is imperative to maintaining a comfortable environment in your home.
At DB Insulation we pride ourselves on bringing comfort to your home in Washington D.C.
Contact us today!
(240) 466-6880