DB Insulation of Southern Maryland
The warmest contractor you know!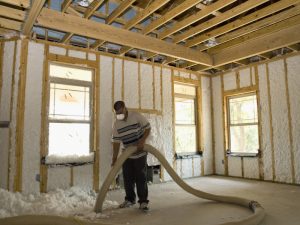 CALL US TODAY FOR A FREE ESTIMATE ON INSULATING YOUR HOME!
(240) 466-6880
Fill Out Our Contact Form For A Free Estimate
Hire a Southern Maryland Insulation Professional
Free Estimates
Licensed, Bonded, and Insured
#1 Rated Company in Southern Maryland
In Business since 1981
Small Family Owned Company
Free Consult of your house needs
"What did you do to my house? The furnace never kicks on any more!"-Margaret, St. Mary's County
Insulation Solutions we install in Southern Md
Blown Fiberglass or Cellulose Attic Insulation
Fiberglass rolls for walls, crawl spaces, and attic foundations
Spray Foam
Foam Board and sealing
Sound Insulation- Rock Wool
Benefits of Increased Insulation
Comfort you can feel
Ever wake up in the middle of the night with cold feet? That's outside air that got in, or else a transfer of energy from your inside heat to the outside cold. A poorly insulated house will lose 2-3 degrees of heat per hour, making for a very cold start in the morning. It's fine to dress warm for the winter, but you shouldn't have to do it inside the house!
"I noticed the difference that same night before I went to bed when we added 9″ to our attic. The fireplace almost forced us out of the house. We heat with a wood stove and we no longer need fires until it gets to 35 degrees or below outside, otherwise its just too much. What an improvement. We thought we had 6″ up there but Dave told us that after 20 years the old style cellulose had settled to 2 inches. Now we have 11 inches and what a difference a day makes!" -Jennifer. Southern Md
Decreased Heat Loss
Increasing the insulation in your attic, crawl space, or even the walls can reduce that heat loss to half a degree or less per hour. Imagine not having to replace the heat on a cold day. Our boiler only turns on because of heat loss. On a 20 degree day, with no heat loss from your house, once you got the inside temperature to 70 degrees, it would actually stay there! Can you imagine that? More insulation, properly installed, will help greatly reduce heat loss from your home. Your wife will be happier, the planet will be greener, and you will stop losing the heat from your home, which brings us to our next point…
Lower Utilities
There is only one reason a boiler needs to kick on. Your house lost the heat it once had. Whether it takes one hour between cycles or four depends on how energy efficient your house is. That thermostat has no sympathy for your electric bill. If you want it to stay 72 degrees, the cold hard fact is you have to keep the heat you have, or replace it when its gone. That's where we can help.
The benefit of reduced heat leakage means your HVAC system won't have to turn on as often because the heat it made earlier is still there. Good insulation can change your heat loss from 2-3 degrees down as low as .5 degrees per hour. Can you imagine going to sleep and turning your heat off before you go to bed? Don't give your boiler a reason to turn on. Keep the heat you have.
You will actually look forward to getting the electric bill, but the most shocking benefit of all is…
Longer Boiler/HVAC System Life
What? Let's let that one sink it. It is true. We mean it. Your boiler and your HVAC system will enjoy a longer life, with longer service intervals with beefed up insulation. You already know this to be true. The more use our boilers get, the more wear and tear they get. But your boiler doesn't have an odometer to tell you it has 200,000 miles on it, nor can it tell you its time for an oil change after 5,000 miles. But, nevertheless, our HVAC equipment has a life expectancy and it is not tied to the number of years it runs, but rather how much it runs in those years. If we can cause that boiler to run half as often, the boiler has a fair chance at lasting twice as long.
Contact us today!
(240) 466-6880
Fill out the below form and we will get in contact with you as soon as possible!
Southern Maryland Experience
D.B. Insulation Company has been doing business in Southern Maryland since 1981. We know the state, local, and national codes like the back of our hand and sometimes snore them in our sleep. We've sealed houses for leaks, beefed up attic re-insulation in house after house in Mechanicsville of St. Mary's County, but we service all over the tri-county area including Charles and Calvert county, Anne Arundel and P.G. County If you need an insulation company, give us a call today.
(240) 466-6880
Attic Insulation Company Serving St Mary's, Charles, Calvert county
One of the most frequent reasons for a phone call here in Southern Maryland is to beef up an attic insulation. Attics provide the single greatest source of thermal loss in most homes due to the large square footage of your ceiling, and the fact that cold air rises.
When that warm air rises, what makes it want to leave the house is if its touching a cold ceiling. If that ceiling is cold, the warm air can leak out of your house through that drywall so fast it will cause a draft in the rest of the house! Many people don't realize the multiplying effect that updraft will cause, drawing in air from leaks in windows and gaps in the walls, pulling in cold outside air in the winter, all because we're losing heat so fast in our attic. This multiplying effect is the very reason attic insulation is so crucial. No other area of the house is quite as crucial. That's why state codes are sometimes double the insulation for an attic on new home construction verses the walls.
(240) 466-6880