Attic Insulation Southern Maryland
Let D.B. Insulation make your home/business in Southern Md a warmer place!
CALL US! (240)466-6880
Upgrading the Insulation of your attic using D.B. Insulation of Southern Maryland is one of the best energy investments you will ever make. Upgrading windows requires the use of a cost calculator to find your break even point, but with an attic upgrade, you'll feel the difference and see the move in your electric bill that very first winter! The typical attic in Southern maryland we find has about 5-6 inches of insulation in it. That's not enough to keep out drafts, up cycles, and cold attic air from falling into your house. An up cycle is especially viscous because once your heat starts escaping from the house to the attic, it will start pulling in outside air in from gaps in your house like windows, jams and joist connections. If air is rising thru your ceiling, it will be coming in from your outside walls and windows to repressurize the house. We're talking actual air drafts here, not just heat loss, and that's a double whammy.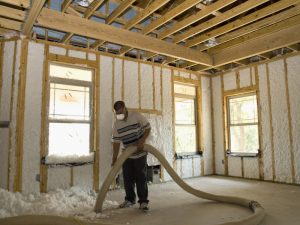 According to the state of Maryland, our attic insulation levels in Southern Maryland should be at R-49 or higher and our floors at R-19. These are the two easiest and cheapest parts of the house to upgrade, and will therefore give you the most return on your investment, and quickly too! Give us a call today to see what we can do for you!